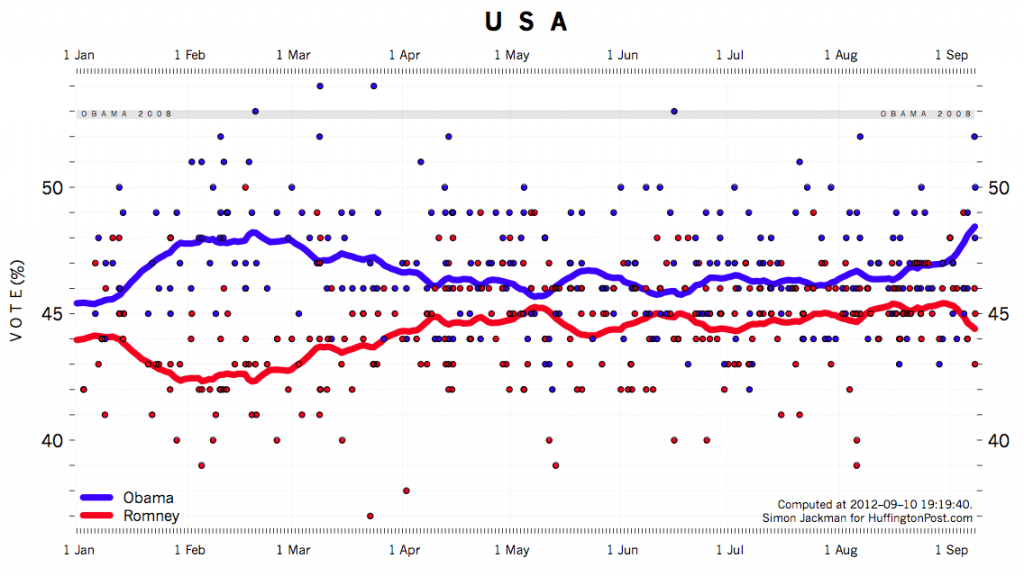 The Presidential 2012 Election is under 50 days away and if we were to believe "trends" as reported by media sources, the actual vote is anti-climatic. This was apparently a "good" week for the President,  who is to the media sycophants urging him on, incapable of "bad" weeks.   The national polls "suggest" a broadening of President Obama's lead of Mr. Romney, and the key battleground states show slippage of Romney traction across the board.  It must be over, because everyone says it is.
The notorious need to prematurely "call" elections for their candidate has left the media with a candidate graveyard of never were Presidents such as the re-elected  President Carter, President Dukakis, President Gore, and President Kerry.  In each case, there was an omnipresent need by the media to try to inform public that the outcome was assured and inevitable, hopefully dampening the hopes of those who would support the alternative candidate and thereby suppressing their vote.  The polls, with oversampling of enthusiasms more appropriate for the 2008 campaign,  say the lead for President Obama is widening, and it is a bad week for Mr. Romney.  Just accept it, lay back and take it, and you won't feel so crushed when Obama prevails on November 6th.
Really? Just who was it that had the bad week?  In the past week we note the following:
The presidential race defies the normal considerations of an informed voter.  The country appears detached from the impending national crisis, consumed with celebrity over performance, and unwilling to grade objectively  the current White House occupant's job performance.  A few more weeks like the last one, however, and the recognition of the worst presidential job performance since James Buchanan will be hard to hide from even a disinterested voter who gets his or her news from TMZ.
A bad polling week for Mitt Romney is an inch deep, but the growing chasm in the President's performance and the progressive realization of it is a mile wide. Its not even remotely – game over.