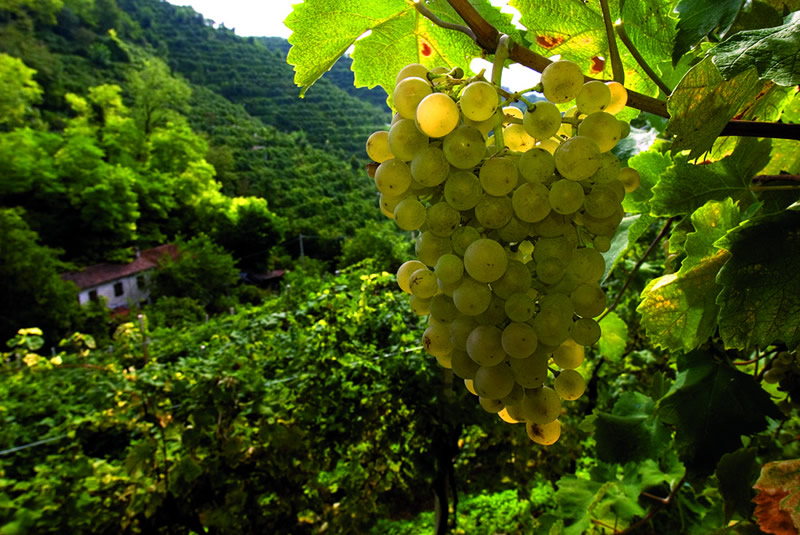 Oh, she's a lovely one, that Prosecco!  It is summer and thoughts turn to the warming sun, beautiful women, and a refreshing glass of Prosecco, not its more pretentious distant cousin, champagne.  Prosecco is Italy's answer to the trivia question, what is a sparkling wine that tastes like sunlight, fresh fruit, looks like sparkles on water, and doesn't require negotiating a mortgage payment like its French cousin.  That would be – Prosecco.  A wonderful sparkling wine that can be enjoyed without having to graduate from Wine Spectator University, Prosecco comes from the Prosecco region which produces the Prosecco grape.  Okay, that was easy to remember. Clustered in the hills above Venice, the grape is grown on the sunny slopes and achieves its bubbly disposition in a secondary fermentation process that would send shivers down the spine of any discerning Frenchman, not in the bottle like champagne, but in a large steel vat in a process called Charmat.  Sacrebleu!  Not surprisingly, the vat process is infinitely more efficient and less expensive, resulting in a wine that is, horrors, actually inexpensive for its quality.  Since Prosecco tastes like, well, prosecco, there is little need to overpay for what already is a refreshing experience that immediately brings cool to the hottest day.
     If you insist in uping the ante, there is the Italian equivalent of French obsession, the Italian sparkling wine that uses the champagne process.  This wine is known as Franciacorta, produced in Lombardy from predominantly Chardonnay and Pinot grapes, and in its finest forms, comes close to the better Champagnes.
     But, hey, this is summer made for frivolity, not a toast to the ancients. Champagne lives in that world of the elevated, momentous  occasion and the morning after bubbles hangover.  Prosecco takes its cue from its lively taste, quick finish, minimal bouquet, and gentle fruit consistency. Here today, gone tomorrow, and live for the moment. Now that's a philosophy that will go nicely with any food group.