We are frequently biased when we think of musical masters of the guitar to the technical virtuosos classically trained like Segovia, or the electric guitar giants such as Eric Clapton or Les Paul.  Country music has a bit of a "bumpkin" reputation associated with guitars used as props and casually strummed, but the superficial bias is totally unfair.  Revolutionary, technically prodigious playing has come out of America's backwoods and has produced some superior guitar master musicians such as Chet Atkins, Doc Watson, and Glen Campbell.  One of the least recognized, and maybe in the guitar finger picking style the most capable virtuoso, was the little known Jerry Reed.
     Jerry Reed is perhaps most physically recognized for his sidekick role as "Snowball" to Burt Reynolds in the 1970's movie series "Smokey and the Bandit".  His media role was the stereotypical "good ol' southern boy" that was assumed by the rest of America to be the sum parts of this talented musician.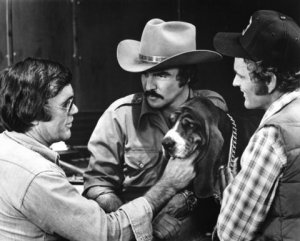 Jerry Reed, however, could play the guitar with the best of them and was a spectacular performer in the finger picking style.  His musical career began in the late 1950's, but took off when the King,  Elvis Presley, determined to record Reed's solitary country hit "Guitar Man", hired Reed himself to perform the guitar licks on the song as it seemed no studio musician and certainly not Elvis himself was capable of the rapid fire crystal clear musical delivery.  Presley used Reed in several other collaborations, and eventual Reed's capacity to additionally sing and write led to Nashville success.  The 1970's were a popular time on television for country music inspired television shows, with Hee Haw, Glen Campbell Good Time Hour, and Johnny Cash Show offering previously underexposed performers such as Reed and Chet Atkins a national stage for their unique skills.  Reed, a naturally ebullient man, never failed to create live performance electricity and often brought out the best in his fellow musicians in duets.
     Jerry Reed is one of those faces you've seen but don't quite place, but deserves to be remembered as an American virtuoso.  He died in September, 2008, at age 71 of complications from emphysema, but thankfully we have a video record to treasure of his extraordinary capabilities and unique style.