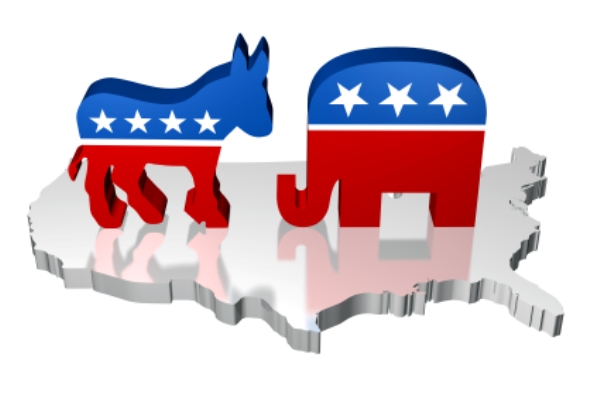 The national election of one of the world's great democracies is now two months away and our moment of truth is soon upon us.  On November 8th, 2016, the American people will take on their Constitutionally granted duty and select among perhaps the two worst candidates ever nominated by the major parties for the job of Chief Executive.  Horrors.
The seeming ease for those of us most resolved to stand back and not in engage in the misery was but a month ago a Hobson's choice.  The supposed competent Criminal was going to beat the incompetent Clown like a screen door in a hurricane.  Well, the  political competence of the Criminal has proven to be – not so competent.  The polls now suggest the election has tightened to the point where we might all go around on November 9th and hear those immortal, nightmare inducing words of 2000 – how do you count a hanging chad?
The swing states of Ohio, Florida, North Carolina, and Colorado are now swinging because the Orange One has managed to get his mojo together and show some real prescience and discipline, and the Ethically Challenged One has managed to be herself.  The establishment media, which is used to parroting lockstep the meme that will reinforce the good guy liberal  bad guy conservative story to an effective conclusion in November, has struggled mightily with the seeming disinterest of the public in what they have to say.  The media obviously has not been helped by the chosen one's incredible weakness as a candidate to the point where it appears she may have to be physically carried across the doorstep to victory.
Hillary Clinton's aversion to the truth and obsession for secrecy to obscure her lies has proven to be genetic.  William Safire so many years ago nailed her persona precisely.  She lies to prevent real malfeasance from coming to light, and we have let her off the hook each and every time.  The latest blizzard is connected to the bottomless pit of lying she has performed regarding the never ending email saga.  Every remark she has ever made about it is a lie, and every lie she tells, attempts to cover a lie she told.  Now that's a real liar.  Many might say, so what, we all lie a bit as our reality is often less sexy or self enhancing.  But as our mothers all once admonished us, lying will make you sick.  For Hillary, whether its the lies that making her sick, or the lies about her real sickness, the two devastating blows to her character are showing a rickety and sagging floor in her voter's enthusiasm for her, and it might be terminal.  Even a party like the Democrat Party, which has such voting discipline when it counts that one might rename it the Hold Your Nose Party, is struggling mightily with this Clinton.  You don't need enthusiasm for New York, Illinois, and California – those states are so long gone to rational debate that Mrs. Clinton could abdicate and she would still beat her opponent.  You do need it however in the large swath of the country that still foolishly believes an election should be a debate about the future, and there,  the Clinton screen door is banging loose from its hinges.
Then there is Donald Trump, who was supposed to have a real ceiling of enthusiasm, and oh boy what a rigid ceiling.  Its bad enough having the Democrats decrying your blissful ignorance regarding every conceivable policy debate, but what do you do when at least a quarter of your own voters think you are a knucklehead?  Well, maybe its not a quarter of the republican vote any more.  Trump's last month of simply avoiding every single cow pie of his own making, has made him looking like, dare I say, the competent one.  The apparent ceiling of 40 % of the voter's who would vote for  Mr. Moose  to effect change is now a ceiling no more.  Mr. Trump is in a statistical heat with Mrs. Clinton and it is reflecting not only on swing states but even the supposed lock down states like Michigan and Nevada that Mrs. Clinton's union brigades were going to bring home for her.  The adage that 60% percent of the country couldn't possibly vote for a clownish, completely unprepared figure like Trump for our nation's most complex political position, is abutting the realization that 55% may not be able to vote for the alternative. Trump has helped the perception of a rising ceiling with a heretofore unrevealed discipline to follow the script of competence, even if his id wants to drive him into nonsensical 'lookatme'-ism.
So here we, the American People,  stand in the basement, the ceiling above pushing on the floor below, just waiting for the whole unstable pile to crash down on us.  From our dim perspective the future does not look very bright, but what it is definitely looking like more and more, is unpredictable.  The first debate comes at the end of September and we will all be drawn to watch like moths to a flame.  Can Hillary stand on her feet for a half hour under bright lights without collapsing?  Can Donald Trump go five minutes without stepping in a cowpie so huge even his own hugeness can not extricate himself from it? Can a formative debate occur where literally no one is capable of telling the truth about anything?  Are we so beaten down that we can't any longer discern the difference?
Don't lie. You want to watch.  Reality television has become – reality.