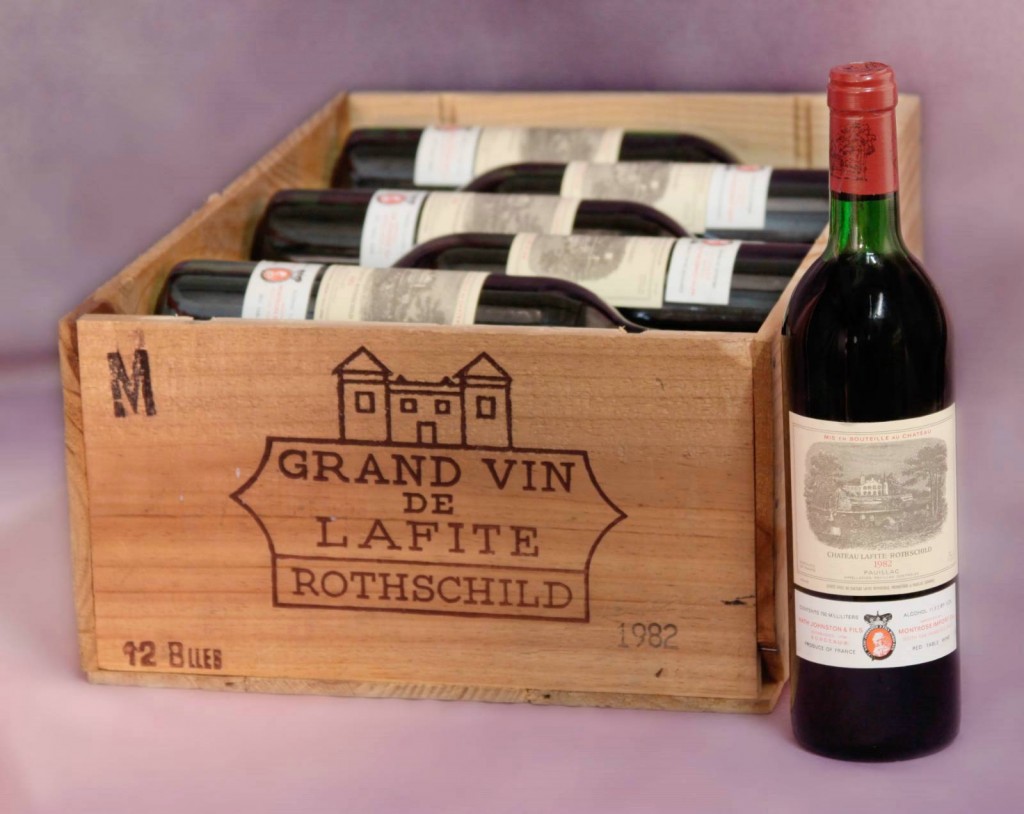 Wine Spectator magazine March, 2012 issue acclaims the 2009 Bordeaux wines a classic, generational vintage. Perfect weather and felicitous harvest timing positioned the most famous vineyards in the world to achieve awe inspiring results for the sophisticated wine assessor to gawk over, with ratings for the 1st growths achieving 98-99/100 scores on initial tastings.  The wine lovers among us should be overcome with joy in celebration of a spectacular vintage, non?
     Non.  The great wines of Bordeaux 2009 will never be something any reasonable wine enthusiast, even one saving his shekels, will ever taste a drop of.  The estimated price per bottle to partake in the experience of the 2009 vintage of the great wine producer Chateau Lafite Rothschild will set you back 1800 dollars.  That's right –  a case of this wondrous brew put aside for the expected 12 to 15 years required to begin to untap its potential comes at 21,600 dollars. Plus tax.  At today's prices, for each case of perfection of Chateau Lafite, you could buy 205 barrels of oil,  13 ounces of gold ingot, a Honda Civic with gas money to spare, or approximately a third of a year of a Harvard education (speaking of inflated value).  Lucky enough to have someone else buy the bottle and offer you a glass at cost, it would cost you 5 Packer tickets at the 50 yard line or two shares of ownership.  Fear not, you have almost no chance of making that painful decision to spend so extravagantly, as the available first growths are being swept up by those who see them as future investments as much as contributors to a good meal.  The expansion of deep pocketed purchasers, particularly the recent influx of Chinese millionaires looking to imbibe in the world of luxury purchasing have settled on wine as the ultimate symbol of success and are willing to pay what it takes to participate.
     The exalted position of Bordeaux as the home of the most desired wines in the world came about through historical endurance and exceptional marketing.  The presence of wine grape harvest goes back in the region of Bordeaux over 200o years with Roman growers in the province of Aquitania realizing the value of the beverage to thirsty drinkers from the suffering soldier of Albion (Roman Britannia) to the nobles of Rome itself.  Wine as a trade resource suffered the tribulations of all commodities with the fall of the Roman system  and it was not until the linking of the fortunes through marriage of Henry the Vth and Eleanor of Aquitaine that the demand for Bordeaux wines again took off and became an export commodity.  Demand and Bordeaux's excellent growing climate and soil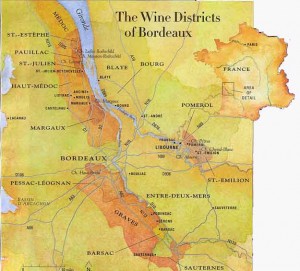 conditions led to the expansion of the appropriate land available of expansion of vineyards in the 17th century, and by the mid 1800's wine stood as a major export product of France itself.  But how to tell the lovingly produced from the slapshod? Well there's technique, and quality, and taste – and of course, price.  The 1855 French classification system by which the Bordeaux wines have flourished in reputation was weighted heavily on price.  After all, market demand drove the price and must of course have as a prime characteristic of demand quality.  The assumption lead to the 1855 recognition of four growers of Bordeaux as First Growth, the marriage of quality and price – Chateaus Lafite , Margaux, Haut Brion, and Latour. Regardless of changes in ownership, talent, technique, and effort, the first growths have held their exalted, and resultingly pricey position in the wine world ever since, joined only through the incredible pressures over time of the grower Rothschild's successful lobbying of the entrance of Chateau Mouton Rothschild to join his Lafite chateau as a first growth in 1973.  A classification system based primarily on the prices of wine in 1855 thus rules demand for product and the mark of excellence in 2012.
     The noble qualities of the primarily Cabernet Sauvignon grape of the left bank wines of the river Gironde and the Merlot grape of the right bank (though the blends vary) are not in question.  The question is one of sanity- is a beautifully developed 25 dollar sip of a Haut Brion Cabernet a better experience for the wine drinker  the equivalent 2.50 sip of a California 2007 Paul Hobbs Cabernet or a 25 cent sip of a 2007 Robert Foley Claret?  Do you have to be Robert Parker to tell?  Married with a wonderful Filet Mignon does it matter in satisfaction until the bill comes due?  I had one opportunity at a so-called 100 year wine, a wonderfully kept 1982 Lafite Rothschild at the twenty year mark, of course on someone's else's generous dollar, and although I admired its immense depth, silky smoothness, and wonderful complexity, I ended up happy and tipsy as I had with much lesser mortals, and I cant say it changed me much.  I never became a voracious automaton for the perfect drinking experience, and my bank account thanks me.
     I am happy for the hard working wine producers of Bordeaux that in 2012 they are still able to convince a Chinese industrialist or a Hollywood producer that he needs to pay a king's ransom for a 2009 Bordeaux whose price is based on a 1855 market snapshot to get on with life.  Vive la France!  As for me, I will continue to struggle on with an occasional 2006 Boscarelli that cost 12 dollars of inflated pricing at the restaurant I enjoyed it at in Tuscany. It made me happy, and slightly tipsy – and I still had money left for dessert. Now that's a life experience worth every penny.