The Metropolitan Opera of New York City is celebrating the 100th anniversary of the world premiere of Giacomo Puccini's ode to the American West , La Fanciulla del West.  The opera was first performed by the Met in 1910 as a crowning showpiece of the Met's then 20th year in existence with a first performance commissioned from the leading opera composer of the time.   Puccini was a fan of the perceived view of the American frontier promoted by Buffalo Bill and his Wild West Show, who had toured Europe with an fantasized version of the west identified by outlaws and cowboys, Indian "savages", shoot'em ups, and fearless gun play.  He enjoyed setting opera in non-traditional settings that made for spectacular sets and no more fantastic backdrop for an opera existed than the American western frontier that had so captured the imagination of Europe at the turn of the century. 
      With the aggressive and physical presidency of Theodore Roosevelt, the world began seeing a new American power endowed with a unique free spirit culture that many in the tradition and hierarchy bound European society so envied.  Puccini on a trip to New York had seen  "Girl of the Golden West", a play by American playwright David Belasco.  Belasco had been responsible for one Puccini's earlier triumphs, Madame Butterfly, a story line regarding an American naval officer in Japan that had translated seamlessly into operatic structure.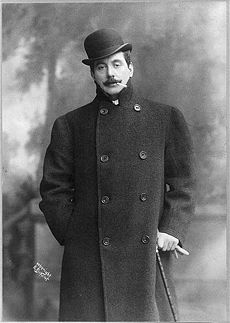 Puccini saw the Girl of the Golden West in a similar vein.  He was intrigued and attracted to the "native" elements of American music form and composed motifs of American song, Indian chant, and western expanse into the musical score.   Exotic or not in locale, the opera libretto was in Italian and  followed the traditional Italian 19th century operatic success story.  Boy meets girl. Girl meets another boy.  Boys fight.  Girl expresses her love for boy. Boy expresses his love for girl. Boys fight. Boy turns out to be bad, but good. Girl defends him. Boy meets tragedy – or something along those lines.  The dramatic overtones of love, violence, life, and death made wonderful ingredients for Puccini's masterful sense of drama and melody, and he possibly was the greatest serious composer of saccharine music.  The aria was the pinnacle weapon of Puccini's popularity and no one was better at creating the dramatic star vehicle that would leave audience members humming the melodies as they left the theater.  That made opera stars very, very happy and they were rabid to associate themselves with Puccini's melodies.  The premiere was no different and had the world's greatest tenor Enrico Caruso in the lead tenor role of Dick Johnson. 
     Giacomo Puccini's La Fanciulla del West is not his most aria glorifying but is one of his more inventive and serious musical scores and has plenty of beautiful "Puccini moments".  Placido Domingo has managed to make the Johnson role his own and for twenty years was the signature performer.  Below is his performance in London in 1983 with Carol Neblett in the role of Minnie: